In this DigiFinex Review, we will discuss what is DigiFinex, the registration process of DigiFinex, its pros, cons, key features, fee structure, why to choose Digifinex, and whether DigiFinex is legit.
What is DigiFinex?
DigiFinex Exchange is a cryptocurrency trading platform, with more than 4 million users globally. It provides features like leverage trading, credit card purchases of digital currency, and everlasting swaps. The Company operates from Singapore and maintains a registered office in Seychelles.
Currently, the platform supports active trading with ten fiat currencies and more than 100 main cryptocurrency trading pairings. Well-known cryptocurrencies such as Ethereum, Cardano, Aave, ChainLink, and Bitcoin are all available for trading. Furthermore, to make coin trading easier, it has its own DigiFinex token.
How to Register On DigiFinex?
First, Go to DigiFinex's official website and select "Register Now/ Sign up" option.
Enter your email and the desired password, also accept the terms of the DigiFinex Digital Assets Financial Exchange, and be sure you have read all of the terms and conditions. After that, click on "Create Account".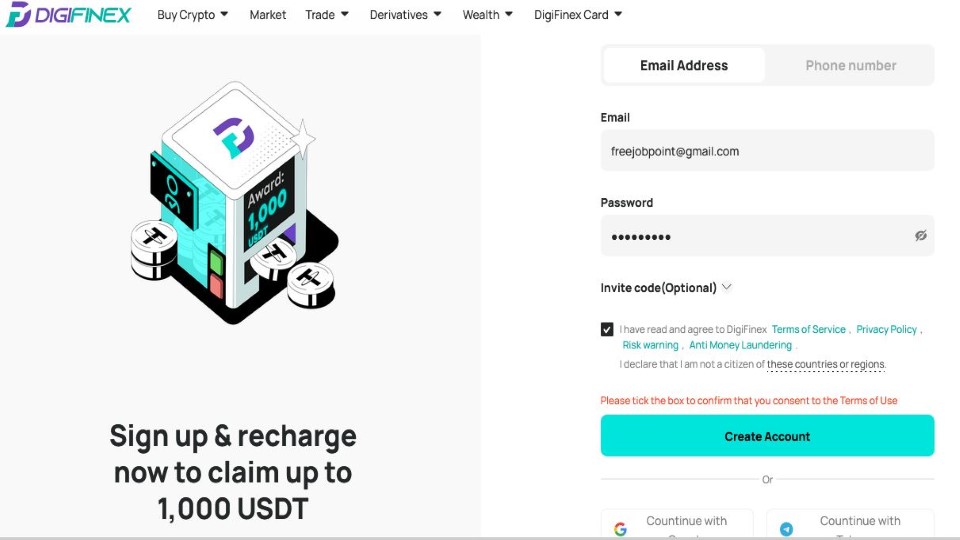 Once, you click on the "Create Account" a verification popup will appear. Just slide right and complete the image.
DigiFinex exchange will send a 6-digit verification code to your e-mail address. Enter the code in the input box and click on the "Activate Account" button.
Once, you click on "Activate Account", you can explore the Exchange by clicking on the "Trade Now" button.
A list of Derivates will appear, you can choose any one of them to trade in.
It is important to mention that you should enter your identification details like your residential address, and government-issued ID number, and upload the necessary documents at the earliest.
Key Features of DigiFinex
These are the key features of DigiFinex.
1. Spot Trading
Within the market capitalization, DigiFinex's spot trading abilities allow safe transactions with quick delivery. This platform allows traders to buy and trade foreign currencies for trading products. Choosing a spot trading platform like DigiFinex offers traders access to a variety of assets using CFDs and spread bets, as well as options.
2. Derivatives
DigiFinex offers trading opportunities in derivatives that are coin-margined and USDT. Trades that are coin-margined require a particular cryptocurrency, but trades that are USDT-margined use Tether (USDT). This is where the differences reside. DigiFinex charges a fixed fee of 0.05% for interest-rate margin trading.
In order to reduce the effects of periodic and at times severe fluctuations in the cryptocurrency market, DigiFinex has established a unique lifetime protection fund. The purpose of this fund is to guard against shortages of liquidity when market volatility is at the highest level.
3. Launchpad
Users can invest in blockchain campaigns before they get public attention by using DigiFinex's Launchpad platform. This is a good time to invest because some of the projects have seen significant value increases following their Launchpad campaigns.
4. Wealth
DigiFinex's Wealth platform offers a variety of investing options, for cryptocurrency users. These include a range of funds and cryptocurrency mining solutions that provide the possibility of passive earnings. Also available to customers is the option of obtaining cryptocurrency loans, which are secured by digital assets in return for a loan.
5. DigiFinex Card
Users can use their cryptocurrency balance anywhere in the world using the DigiFinex Card, a credit card with a USDT worth. The card stands out because it has no annual fees and no spending restrictions.
It's crucial to remember that the DigiFinex Card lacks spending prizes and cashback options, in comparison to certain competitors' cryptocurrency credit cards.
6. Cloud Mining and Merged Mining
Features of cloud mining and integrated mining include the purchase, shipping, hosting, and maintenance of mining tools.
This makes it possible for users to mine Bitcoin with different power computers. Users can use DigiFinex to subscribe to available mining groups in order to participate in this service.
Fees Structure
DigiFinex charges a maker fee of 0.2% to 0.5% and a taker fee of the same amount for spot trading. Due to its reasonable trading and withdrawal fees, DigiFinex has become a popular choice for traders looking for low-cost options.
Why Choose DigiFinex?
DigiFinex is a good choice for traders for a number of reasons. It gives users a wide range of options by supporting trading in more than 100 cryptocurrencies.
It offers large trade volumes and good liquidity by placing particular attention on the Asian market. The platform places a high priority on financial security and provides desktop and mobile customers with an intuitive user interface.
With DigiFinex, beginners can buy cryptocurrency up to a $20,000 maximum using credit cards. The platform, which is well-known for its rewards program and 24/7 customer service, uses strong security features like two-factor authentication. Through the DigiFinex app, users may trade easily.
Pros and Cons
| Pros | Cons |
| --- | --- |
| Over 100 options for trading coins. | Trades from the US is restricted. |
| Lowest withdrawal fees | No trading pairs based on fiat currencies |
| Products for trading ETFs, margin, and derivatives | |
| Provides support to trading with leverage. | |
Is Digifinex Legit?
The general opinion is that DigiFinex is a reliable and authentic exchange. It began operating in 2017 and has since gained a good reputation among users. It's important to realize, though, that there are risks connected with any trading platform. It is a smart idea to keep your cryptocurrencies in a cold wallet, such as a hardware wallet, for extra security.
Is Digifinex Available in the USA?
No, DigiFinex is not available in the USA. Because, if international companies are not registered in the USA, the USA does not allow foreign corporations to reach out to US investors.
FAQs
Where is DigiFinex located?
Singapore is the headquarters of DigiFinex. Nevertheless, it also operates offices in other countries, including South Korea, Japan, and Hong Kong.
Is DigiFinex a Good Exchange?
With every factor considered, it seems it's a great platform for trading multiple native tokens and exchange coins. No cases of data breaches or hacking happened. Furthermore, 150 countries accept it.
Is KYC required On DigiFinex?
Know Your Customer (KYC) process are required on the DigiFinex exchange. Before any accounts on the exchange may become active, users must finish this step.
Conclusion
DigiFinex is a cryptocurrency exchange enabling trading in over a hundred cryptocurrencies. DigiFinex is growing fast with over 4 million users from 150+ countries. Its great features and opportunities to earn have given it an excellent reputation among traders and investors.
DigiFinex is a great platform to try because you can do a lot of things on it, like buying coins with a credit card, using derivatives, trading on different cryptocurrency exchanges, and dealing with margin products all in one place.