In this UberEats review, we will discuss what is UberEats, its pros and cons, how to make an order, and its main features.
Uber Eats is an instant food delivery service that makes ordering tasty food from nearby restaurants as simple as putting in a ride request.
What is UberEats?
UberEats is an online food ordering and delivery platform. It allows you to place food and drink orders from nearby Bars, Cafe, and Restaurants. UberFresh was the name of the original version of the app when it launched in 2014. But in 2015, it updated its name to UberEats and became a stand-alone app. Today, it is popular by the name of UberEats.
Customers may view menus, place orders, and follow the delivery of their food using the website or mobile app. For customers who want the comfort of having restaurant-caliber food delivered to their homes or places of business, it is growing in popularity.
Pros of UberEats
The simple method of trying new restaurants
Delivers food to your door
Particular delivery choices
Cons of UberEats
Sometimes when you arrive at the restaurant, the food is cold.
Drivers don't deliver on time.
Usage charges may increase.
How to Place an Order on UberEats
Step 1: Download or Sign up
First, download the UberEats app or go to the website. You can log in using the same username or password you have used before. If you have not already, enter a username and password to create a new account.
Step 2: Select your delivery location
Explain UberEats where you want your food delivered. If you have set a location in the standard UberEats app, it will be immediately imported. You can change your address anytime.
Step 3: Select restaurants
After logging in, a list of restaurants will appear. You can search for a particular restaurant, food, or meal that you're eating.
Step 4: View menus
To view the menu for a restaurant, click on it. Choose your favorite items and put them in your cart.
Step 5: Check your order
After making choices, add items to your cart and check out. Here is where you can also change your payment method. Remember to use the delivery instructions, which include providing your residence address and any other relevant details, if required.
Step 6: Place your order
After confirming that everything is in order, click on Place Order to finish your order.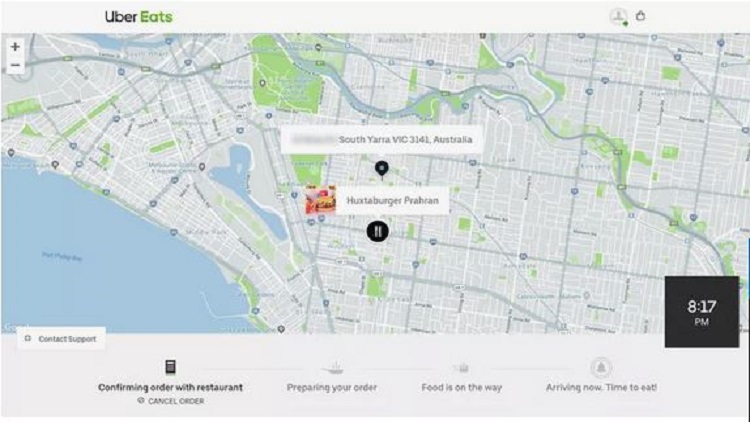 Main Features of UberEats
| Features | Description |
| --- | --- |
| Minimum order amount | There is a small cost of $2 for subtotals under $10 and a small fee of $3 for subtotals under $15. |
| Delivery time | ETA for the dish ordered varies according to the restaurant. Uber Eats, however, states that delivery times from pickup to drop-off are 15 minutes after the food is prepared. |
| Track your order | You can follow your order all the way to the point of delivery via a reliable tracking system. |
| Cancelation policy | If you cancel the order before the restaurant accepts it, there are no fees due to it. However, there will be some fees after approval. |
| App experience | The application is very nice, simple to use, and very effective |
FAQs
How can I cancel an UberEats order?
Until the delivery person gets back to the seller, you may cancel your order. Press the receipt sign in the bottom menu bar and choose "Cancel Order" to cancel an order.
What is excessive wait time Uber Eats?
Restaurants may take longer than normal to prepare food when there is a great demand. You can cancel the order via the app if the food is still not ready after more than fifteen minutes of waiting. When asked, select Long wait time for a reason.
Does Uber Eats refund cold food?
We can usually fix the bad experiences of your customers due to our refund policy. Subject to our conditions, Uber Eats will often cover the following for your customer: uncomfortable wait periods. cold food or problems with food temperature
What payment methods does Uber Eats accept?
Payment options that you can add include digital wallets, PayPal, Venmo, credit and debit cards, and Uber gift cards.
Conclusion
In conclusion, UberEats is a flexible and effective food delivery service that makes it easier to access restaurant-caliber food. It provides an easy way to satisfy your hunger with a variety of restaurant options, customized delivery options, and the advantage of having food delivered right to your door.
However, it is important to be aware of possible disadvantages including expensive usage fees, irregular driver absence, and temperature changes in meals depending on the restaurant.